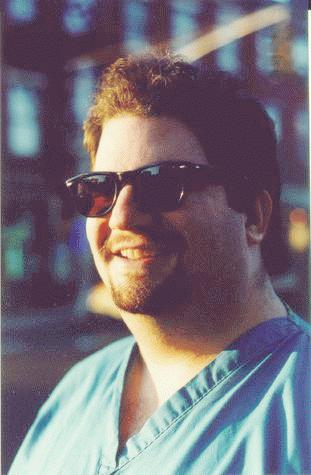 Vital Statistics
Birthday: 9 Dec 1969
Hair: dark chestnut brown
Eyes: Brown
Height: 5'10"
Weight: 328 lbs
Had gastric bypass surgery 2/28/07 (and will post new pics as things change)
Heritage: Jewish (Russian/Polish)
Status: Single since 2/14/06
Meyers-Briggs Type: ENFP

Interests: (eclectic)
Listening to music (anything but country and heavy metal -- My collection ranges from Streisand to Spin Doctors, Beatles to Broadway)
Reading - eats a book for breakfast and two more for lunch, 95% of the time from the fantasy/science-fiction genre. (See Favorite Authors below)
Writing - a light hobby for my spare time.
Medicine - obviously, since I'm a doctor. Not all doctors love their jobs, but I do!
The Net

Biggest weaknesses:
Blonds
Long hair
Long walks, holding hands, kissing.
Touchy-feely guys.
Recently, I've discovered a taste for boys in leather. Not BDSM, just leather gear/clothes.
Note, none of the above are necessities - they're things I like, not things I have to have.

Dislikes:
Crowds. I get semi-claustrophobic in crowds.




There have been
visitors to this page since Dec 20, 1995. This counter courtesy of Web-Counter!